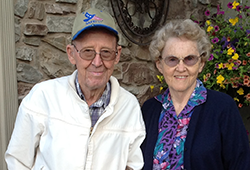 Peter and Eleanor have given many faithful years to serving God's church.

Eleanor grew up as a Sabbathkeeper and dedicated 17 years of her life to mission work in places like Pakistan, India, Puerto Rico, and Jamaica. Peter grew up Catholic in Montana and worked on farms. When his first wife took Bible studies and was baptized as a Sabbathkeeper, he soon followed and later sold Christian books door to door. His literature work took him to Idaho and then to Washington, where he was later ordained as a pastor.

About 12 years ago, after their spouses passed away, the two met and married. Retirement didn't stop their desire to spread the gospel, and they became passionate volunteers at Amazing Facts headquarters! During this time, they set up a gift annuity with our planned giving department. "We felt Pastor Doug's messages were right on target," Eleanor shares, "and wanted to help advance the gospel."

Peter and Eleanor believe gift annuities are an excellent way to support God's work through Amazing Facts. Instead of letting their funds sit in a bank, they've placed them into the hands of a ministry that is spreading the three angels' messages. In this way they benefit the gospel while receiving a tax deduction and a lifetime stream of annual income.

Recently, they felt impressed to support the development of Revelation: The Bride, the Beast & Babylon, which has been seen by millions around the world. "Our living expenses are quite small," Eleanor explains, "so we decided to cash in one of our annuities to help advance this project."

Peter, who is 90 years old, agrees. "It's a shame for all this money to be tied up if we don't need it. Why wait to give it until we pass away?" Because of God's blessing, they were able to make this contribution sooner than later.

"The gift annuity program is a wonderful way to support the mission of Amazing Facts if you need to continue to receive income," the dedicated couple shares. "And if at some point you are able to cash in any of them, Amazing Facts will be blessed and so will you!"

Peter and Eleanor have personally experienced the promise made by Jesus, who said, "Give, and it will be given to you: good measure, pressed down, shaken together, and running over will be put into your bosom. For with the same measure that you use, it will be measured back to you" (Luke 6:38).