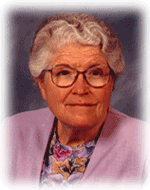 Bev has worked long hours and many night shifts as an RN, carefully saving her earning all through the years. What's more, she bought a home many years ago and has seen it steadily increase in value.

Still, Bev has never been a risk taker. While she saw some friends make a lot of money in the stock market, she also saw a number of them very disappointed as they experienced significant losses. She does not want to try to out guess the market.

Says Bev, "At this stage in life, I know I'd be better off with a good fixed rate of return. I realized I could, at my age, get a 8.5-percent payout plus a large income-tax deduction. This gift will also be a great help to Amazing Facts reaching out with the gospel of hope. Now I have a good safe rate of return on my funds, and I've vitally helped the ministry I love so much. I now have peace of mind."

Please note: The name and image above is representative of a typical donor and may or may not be an actual donor to our organization. Since your gift annuity benefits may be different, you may want to click here to view a color example of your gift annuity benefits based on your age.