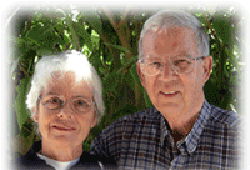 Burton and Pat have given their whole lives in ministry. Burton is a retired pastor, and Pat is a talented writer and Bible instructor. They have been leaders in developing lay training, and both have been very successful in helping members become effective witnesses and finding their talents in ministry.

Burton says, "We believe in the Amazing Facts ministry. Their clear Bible message and powerful lay training is bearing fruit, so Pat and I agreed that we needed to help this ministry."

Pat adds, "We wanted to do more than just immediate gifts. We have been careful over the years, conserving and accumulating some resources, and God has wonderfully blessed our stewardship efforts. We plan to be generous with our family, but we also have the ability to remember Amazing Facts in a special way."

After talking it over, Burton and Pat decided to leave a gift to Amazing Facts from their trust. Their attorney was able to take the simple language available from Amazing Facts and include a gift that will help to complete the great commission. "We are delighted that we will be strengthening this ministry."

You can also make it easy and convenient to leave a gift through your will or trust. The language below explains how you can very easily include a gift to Amazing Facts in your estate plan.

You also may want to make it easy and convenient to have a bequest included in your will. The language below shows how a bequest can very easily be included in your will.

You might find it helpful to select the "print" button on the top of your screen and print this page. Please feel free to give this information to your attorney. If he or she has any questions, please have them contact Mark Teh at phone number 916-209-7252 or e-mail me at mteh@amazingfacts.org.