WWII War Bride Leaves a Legacy for the Gospel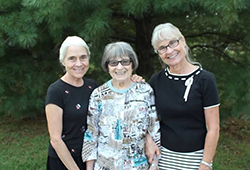 As a young war bride, Doris received the surprise of her life when she arrived in America. She had married a U.S. soldier in England in the midst of World War II, but only now had she discovered that he had become a Christian and was preparing to be a pastor. Furthermore, he had enrolled her in a Bible course.
Doris didn't fight her husband on it. Instead, she carefully studied the lessons and accepted every Bible truth she encountered in them. She soon became an ardent supporter of evangelism. When her two daughters, Gayle and Lynn, were small, she took them to an evangelistic meeting in a big open-air tent. Today, her daughters recall, "Our little hearts beat so fast as we sat awestruck by God's truth."
Many years later, Doris's daughters now carry on their mother's legacy of active Christian service. Gayle serves as a missionary, ministering to the health and spiritual needs of the Karen people in Thailand. Lynn actively loves the people around her for Jesus, sharing Scripture and studying the Bible with people in their homes.
But they wanted to go even further, so in honor of their mother and her lifelong passion for outreach, Gayle and Lynn recently set up a named memorial fund-"Doris's Gospel Legacy Fund"-through Amazing Facts International. Gayle and Lynn have also partnered with Amazing Facts by each setting up a gift annuity. Establishing these gift annuities not only provides them with fixed lifetime payments, but will be used to further fund "Doris's Gospel Legacy Fund" upon their passing from the balance of the annuity funds. "This gift is for God's glory," the sisters share. "Our prayer is that these funds will be the means of reaching the world with the truths for this hour. We want to see this gospel of the kingdom go to all the world so that we can all go home to be with Jesus."
Gayle and Lynn also share that the entire family was drawn to Amazing Facts because of the ministry's "dedication to the pure Bible truth and its zeal to present that truth in as many ways as possible." Their mother especially appreciated Pastor Doug's "open, honest faith and his example of immersing himself in the Bible." Pastor Doug's Bible Answers Live radio program and his book The Richest Caveman also impressed Doris greatly.
The Impact You Can Make
Amazing Facts is deeply grateful to Gayle and Lynn for establishing this named memorial fund in Doris's honor. Their significant donation will be used just as their mother would have wished: to spread the joyful news of Jesus' soon return to people all around the world.
With a minimum gift of $25,000 funded immediately or through a gift annuity, you can also establish a named fund in honor of your family's or a loved one's dedication to Jesus. And you can know that such funds will have an impact on the soul-winning mission of Amazing Facts. You can also set up a named fund which can be used to support your family's specific evangelistic priorities. Additionally, your named fund gift may also provide you some tax savings through a charitable deduction.
If you would like to set up a named fund with Amazing Facts, please contact Mark Teh, director of estate and gift planning. He and his team of dedicated advisors are ready to assist you in building a legacy for God's kingdom. Call 800-436-2695 or email [email protected] today!