A Named Memorial Fund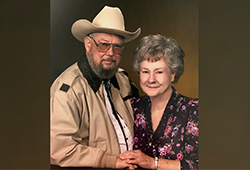 For all his life, Richard Malott took these words of Jesus to heart:
This gospel of the kingdom will be preached in all the world as a witness to all the nations, and then the end will come (Matthew 24:14).
After leaving home at age 12, Richard attended academy, then Pacific Union College followed by the UC Berkeley School of Law. After his work as a lawyer for the Northern California Conference, he heartily pursued an interest in real estate.
But whatever his career interests, evangelism was always a top priority to Richard, who passed to his rest in 2010, and to his wife Sharon, a gifted musician who loved playing for churches and who passed last year. Richard's commitment to his faith and his successful career led to invitations to serve on the boards of Pacific Union College and Amazing Facts.
His son, named after him, shares, "Dad was very committed to the work of Amazing Facts. He wanted to help in whatever way possible to get God's Word out to the world." That's why, to honor his parents' commitment to their love of outreach, younger Malott and his family recently established a named memorial fund, the Richard and Sharon Malott Evangelism Fund, for the work of Amazing Facts. His hope is that "all the glory" from the precious gift "would go to God."
Whether through podcasts; websites; live evangelism; and Internet, radio, and television broadcasts, reaching the world with God's message is the core purpose of Amazing Facts International, a purpose that spoke deeply to Richard's heart. Our ministry family thanks him for playing a vital role in our mission to share the three angels' messages with millions of searching hearts.
Pastor Doug Batchelor, who knew the late Richard through their work together on the ministry board, says, "During the global pandemic, Amazing Facts witnessed an exponential rise in online interest in our Bible-based lessons and other resources, and we are grateful for the support of all our dedicated, faithful friends—including the Malott family—during this difficult time."
A named memorial fund can be established with a minimum gift of $25,000. If you would like to remember your loved ones and their passion for outreach while also supporting the end-time mission of Amazing Facts, Mark Teh, director of estate and gift planning for the ministry, and his team of dedicated associates are ready to assist you in building a legacy for God's kingdom.
Please call 800-436-2695 or email mylegacy@amazingfacts.org.